Where to eat in the Castelli Romani
For places to eat in the Castelli Romani you have l'imbarazzo della scelta; so many possibilities to choose from, many equally valid yet with their own standout characteristics. To help you decide, I have listed some of my favorites by town. It's mainly a list of restaurants, with the addition of a few casual cafes and pastry shops. I'm still eating my way through the Castelli Romani; let me know where if you think I missed somewhere! Not all towns are listed; stay tuned for updates.
Albano Laziale

Fortini Lab Café A cute café, bar, bakery, pastry shop restaurant, tastefully decorated serving quality food and drink. Corso Giacomo Matteotti, 108, tel 06 932 2814 €-€€
Da Charlie Pizzeria Delicious Napolitan style pizzas are served in a cozy and warm atmopshere, complete with quirky artwork and cool furnishings. Via Pompeo Magno, 40, tel 348 305 8018 €€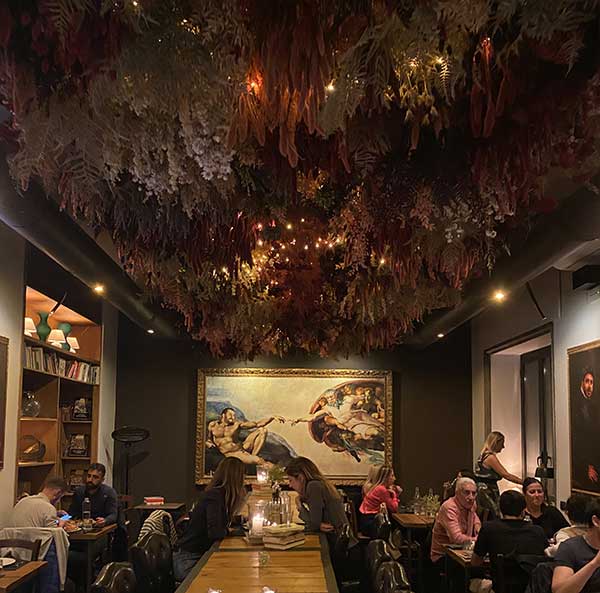 Da Charlie Pizzeria

Ariccia
Sintesi This Michelin starred restarant is modern , warm and turns outs fascinating dishes that blend innovation and quality ingredients. Viale dei Castani, 17 06 4555 7597 €€€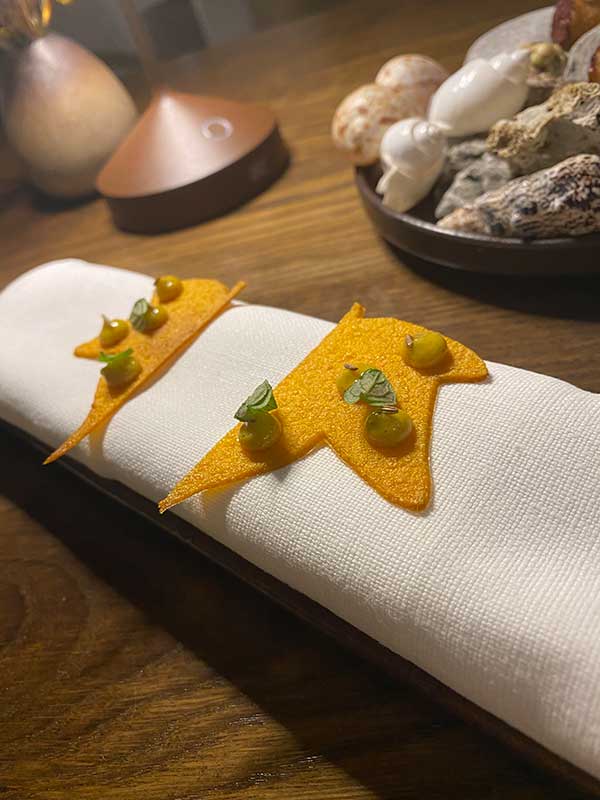 All the below in Ariccia are Fraschetta. We head to these addresses often when we want to eat well and keep within a budget:

Da Rugantino Homemade gnocchi, excellent primi, abundant portions. Good house red wine as well as respectable local wines in bottle. My in-laws favorite for informal family meet ups. via dell'Uccelliera 18, Ariccia. Tel +39 06 933 2953 €


Bucatini all' amatricina at Da Rugantino
Osteria Da Angelo Outfitted with the typical long wooden benches, a vaulted ceiling and a jubilant atmosphere, you'll find delicious homemade pastas. As it is a favorite of Romans, booking is recommended. € via dell'Uccelliera 24/26, Ariccia Tel. 06 9331777
Fraschetta Antico Grottino Located in the main piazza of Ariccia, Antico Grottino offers a full menu as well as the best pork sandwich to eat in or take away. Excellent porchetta and has a good price/quality ratio. If it's nice weather, grab a table outside and take in views of piazza designed by famed artist Bernini located across the street. €Piazza di Corte, 15, Ariccia Tel. 06 8936 3364


Castel Gandolfo
Pagnanelli An upscale institution in business since 1882, is known for its quality food (both fish and meat dishes) service and stunning views of Lake Albano. Well stocked wine cellar carved out of rock below, ask to go down to check out this wine museum. Anytime I have out-of-town clients visit or family for a special meal, we head here. €€€ - €€€€ Via Antonio Gramsci, 4, tel +39 06 936 0004
Arte e Vino Located on the main street, this characteristic restaurant serves Roman classics and slight variations in eclectic themed rooms, adorned with antiques and peculiar objects. Plus, explore their suggestive underground cave. €€ Corso della Repubblica, 49, tel +39 06 936 0202
Il Grottino Right in the center of town, this restaurant boasts inside and outside dining with fabulous lake views. A menu complete with a seasonal selection of dishes and great fish; I recommend the mixed grilled fish. Family friendly! 5 star review! €€-€€€ Via Saponara, 2, tel +39 06 936 1413
Il Grottino and Jacobini Wine
La Quintessa Found on lake level, La Quintessa has a warm and welcoming environment, with an elegant décor. High quality food, a varied menu and a good wine list.
I was impressed with the chic, yet comfortable atmosphere and the particular menu items hard to find elsewhere. €€-€€€ Via Spiaggia del Lago, 20/B, tel +39 06 9380 2029
I Quadri
One of the very few restuarnts that has terrace dining on the shores of the lake. Delicious seafood but also pasta and freshwater fish. Make a day of it, it has a beach with sun beds for rent. €€-€€€ Via dei Pescatori, 21, 00073 Castel Gandolfo RM 06 936 1400

A Casa di Nino This cool, rustic yet stylish osteria with vintage objects serves excellent homemade pastas and grilled meats. Owner Nino uses only quality, prime ingredients and brings his love of his home Basilicata to the Castelli; try the antipasti with the peperone crusco. €€-€€€ Via Ercole Imbastari, 21 tel. +39 06 936 3425
Ristorante Capodiferro An upscale, romantic fish restaurant with lovely views of Lake Nemi, both inside and out. My husband and I treated ourselves here on our anniversary. €€€ - €€€€ Via Fratelli Cervi, 1, +39 06 9337
A mixed crudo (raw) fish antipasto at Capodiferro
I Castelli - Enoteca Ristorante Wine Bar A selective wine list and a creative chef make a winning pair for an aperitivo, lunch or dinner. €€-€€€ Via Italo Belardi, 31, tel. +39 06 6937 6773
Trattoria dei Cacciatori In business since 1947, this historic, traditional restaurant is still turning out fabulous pasta dishes and game specialties. Last time I went with my family of 4, we all got different dishes and each thought ours was the best. Winner! Ask for a table in the fresco room or outside when weather permits. €€-€€€ Via Italo Belardi, 78, tel +39 06 939 6060


Piccantine funghi porcini e salsiccia at Trattoria dei Cacciatori
La Vecchia Cantina - Pietrino e Renata Delicious grilled meats and traditional pasta dishes. Built in an old cellar with stone walls, high ceilings and a spacious dining room, this place simply charms me. It recently changed hands; Pietrino and Renata sold to a team of brothers, but the quality and allure remains. €€-€€€ Via Generale Roberto Lordi, 70, tel +39 06 97 24 9478 +39 393 20 60 369


La Casina delle Rose
Traditional Italian resturant serving pastas, pizza and dishes with wild boar. €€-€€€ Viale Piave, 2, 06 933 0115
Special mention for something sweet: Pasticceria Cimoroni excellent pastries, especially the chocolate eclairs! Via Italo Belardi, 35


Grottaferrata
Taverna dello Spuntino I have felt so welcome here thanks to the Fortini family, owners of this authentic, traditional restaurant which turns out excellent homemade pasta dishes. The copper pots and ceramic plates hanging from the walls enhance the rustic atmosphere and charm. €€€ Via Cicerone, 20, 06 9431 5985
Mangiafuoco Delicious appetizers and first courses, but what thrilled me were the excellent grilled meats and wine list. In the summertime, ask for an outside table, it's so pleasant eating outside on via Cicerone. €€-€€€ Via Cicerone, 40 tel 06/9411904
La Botte di Ferro Fish & Sushi
Modern, refined location with impeccable service. Beautifully presented fish and sushi dishes with an excellent wine list to match. €€€ - €€€€ Via Filippo Corridoni, 12, tel 06 3972 2514
Marino
Al Casaletto This enchanting restaurant with whimsical décor and outside garden run by a brother and sister team, uses only genuine, seasonal ingredients to turn out creative dishes. I was blown away by their chestnut soup. €€-€€€ Via dei Laghi, km 4,200, tel. +39 06 938 8696
Cantina Colonna Located in the heart of Marino, this welcoming, intimate osteria is a cute spot for eating well and washing it down with fabulous local wines. I went with a group for a fun evening filled with friendship, good food and wines. €€-€€€ Via Giacomo Carissimi, 32, tel +39 06 9021 2368
Ristorante La Fiocina Located on the lake shores next to the Museum dei Navi, this location offers lake views from the garden, terrace or inside. Good traditional dishes offering both fish and meat options €€-€€€ Via delle Navi di Tiberio, 9, tel + 3906 939 1120.
Lake views in the garden at La Fiocina
Stuzzico & Vinello Bistrot For an aperitivo or snack, stop by for their excellent choices of wine by the glass and quality cheese charcuterie boards. Corso Vittorio Emanuele, 21, tel +39 392 639 2197

Velletri
Pizzeria La Forbice Wanting a pizza, my family ventured to this typical pizzeria/osteria which also specializes in traditional dishes and grilled meat. Thin pizza, just how I like it and homey atmosphere. €€ Corso della Repubblica,466, tel +39 06 963 8812
Agriturismo I Casali della Parata The ideal spot for a countryside lunch complete with fresh pastas, wood fired pizzas, space to roam and vineyard views. €€-€€€ Via Torre di Presciano, 1, tel +39 0696195154 – +39 339 3544258

Ristorante L'Oasi High quality ingredients with highly qualified staff, along with a curated wine list. Via Pratolungo, 29 06 962 9623
First Published: January 27, 2021
Latest updated: November 9, 2022