June 4th: The 90th Edition of the Sagra delle Fragole in Nemi
On Sunday, June 4th, the charming town of Nemi will host its 90th edition of the celebrated Sagra delle Fragole e Mostra dei Fiori (Strawberry Festival and Flower Show).

The much anticipated festival returns with a program that includes parades of the Fragolare, women and children wearing traditional fruit picker costumes, guided tours of the Museo delle Nave (Museum of Roman Ships), fireworks and free strawberries for all.
Sample the strawberries or fragoline (small, exceptionally sweet local strawberries) by themselves, or on gelato and cream tarts or in jams, sparkling wines and liquors. Walk the adorable streets, take part in the guided tours, watch the traditional parades and dance to live music in one of the cutest towns in Italy.
Check out the program of events below.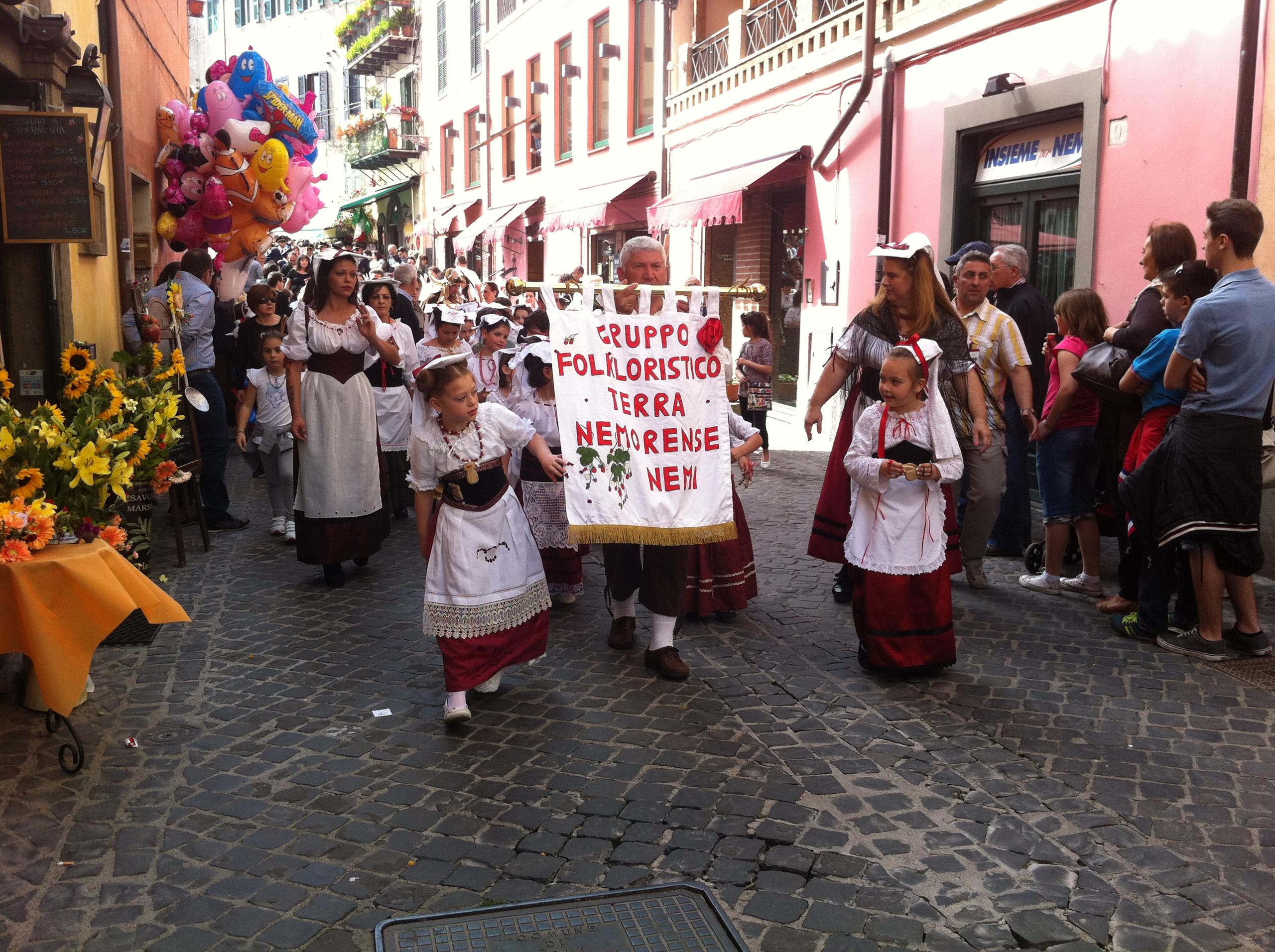 Sunday 4th June 2023 - 90th Strawberry Festival and Flower Show:
- 10:00 am Holy Mass at the Parish of Santa Maria del Pozzo
- 10:15 am Guided tour of the Museo delle Nave (Museum of Roman Ships) by G.A.A.L.N.A.
- 11.00 am Inauguration of the Flower Show, via Salita delle Chiesa
- 11:15 am Parade of the Fragolare, starting point Piazza Umberto I

-12:00 pm Exhibtion of the Folkloristic group "Terra Nemorense"
-12:30 p.m Welcome from the Mayor Alberto Bertucci
- 4.:15 pm Guided tour of the village by G.A.A.L.N.A.
- 4.30 pm parade of the Fragolare with the folkloristic group "Terra Nemorense"

-6:00 pm Award Ceremony
- 7:00 pm Distribution of free strawberries to all present, Piazza Roma
- 8.00 pm Musical Concert featuring I Figli delle Stelle, Piazza Umberto I
- 11.00 pm Fireworks display


New to Nemi? Check out some of my past blog posts:
The Sacred Grove, the Sancutary of Diana Nemorenesis
How to Arrive to Nemi:


By Car: From Rome, from the GRA take the Appia exit continue up to Genzano di Roma, then continue on via Nemorense up to Nemi .
Shuttle services are provided the day of the festival with parking along the via Nemorense and via dei Laghi.

By public transport: From the Anagnina Metro station you can take a Cotral bus to Genzano, up to the Genzano-Nemi junction and then take the connection to Nemi or the inter-municipal shuttle Genzano-Nemi.
By train from Roma Termini there is the Rome-Albano line and, from Albano, the Cotral bus to Nemi.